Being a Practitioner and Beyond
International conference 2022
The very first international conference for speech and language therapists/ pathologists in Sri Lanka, was held at the neurotrauma auditorium of the National Hospital Sri Lanka on the 27
th
of November 2022.
It was organized by the
Sri Lankan Association of Speech and Language Pathologists, and was sponsored by Vision Care Hearing Solutions, The Bridge International Institute for Personal Excellence and Malsewana Flora.
A pre conference workshop was conducted on zoom, with local and international speakers contributing to enhance the knowledge base of the participants in different fields of Speech and Language Pathology. Ms.Randimali Rupasinghe, a clinical audiologist, spoke on Hearing aid Troubleshooting. Jessica Mount Matney, Speech and Language Therapist in New Mexico, US and Melody Zagami, Education Specialist from Washington DC, US, collaborated on the talk 'Cortical-Visual Impairment and AAC: Approaches for Success'. Susan Germain, Speech and Language Therapist at the Birmingham Heartlands, Good Hope & Solihull Hospitals (HGS), spoke on Speech and Language Therapists' Role in the Management of Oral-Pharyngeal cancer.
Senior Professor A.R Wickremasinghe Cadre Chair and Senior Head, Department of Public Health, Faculty of Medicine, University of Kelaniya, was the key note speaker of the conference which was an onsite event, held on the 27
th
of November. and he shed light on 'Pathway for publishing your research', a topic which is important for young professionals. 
The council of SLASLP honored the senior speech and language therapists who have been working in Sri Lanka, to celebrate 20 years of service in Speech and Language Therapy.
Dr. Shyamani Hettiarachchi and Dr. Isuru Dharamarathna spoke about writing a manuscript to end the first half of the sessions. 
Technical sessions started off with Dr. Thilini Lokubalasuriya's talk on Intervention strategies for Dyslexia and Dr. Isuru Dharamrathna provided valuable insight on fussy eating vs sensory feeding disorder.
Shimla Hamza and Gayanthi Kodithuwakku shared their experiences on postgraduate education in the US and Australia in Forum I. They also gave an input on the available international scholarships for speech and language therapists. 
Dr. Nimeera Weeraratne and Ms. Buddhima Samaraweera spoke about their journey in setting up their own clinics in the community in Forum II and motivated their colleagues on the same. 
Mr. Yasith Arunashantha, Assistant Manager and Clinical Audiologist, Vision Care (Pvt) Ltd, gave the guest speech on business administration in the clinical setting, a unique subject which prompted an interesting discussion in the audience. 
'The best presenter' was awarded to Mrs. Prabhani Dineshika for the paper titled, 
Cultural Adaptation and Identifying Reliability of the Language Screening Test (Last) for Sinhala Speaking Individuals with Left Hemispheric Damage Following Acute Stroke.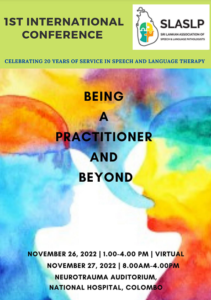 "Being a Practitioner and Beyond"
Conference Book