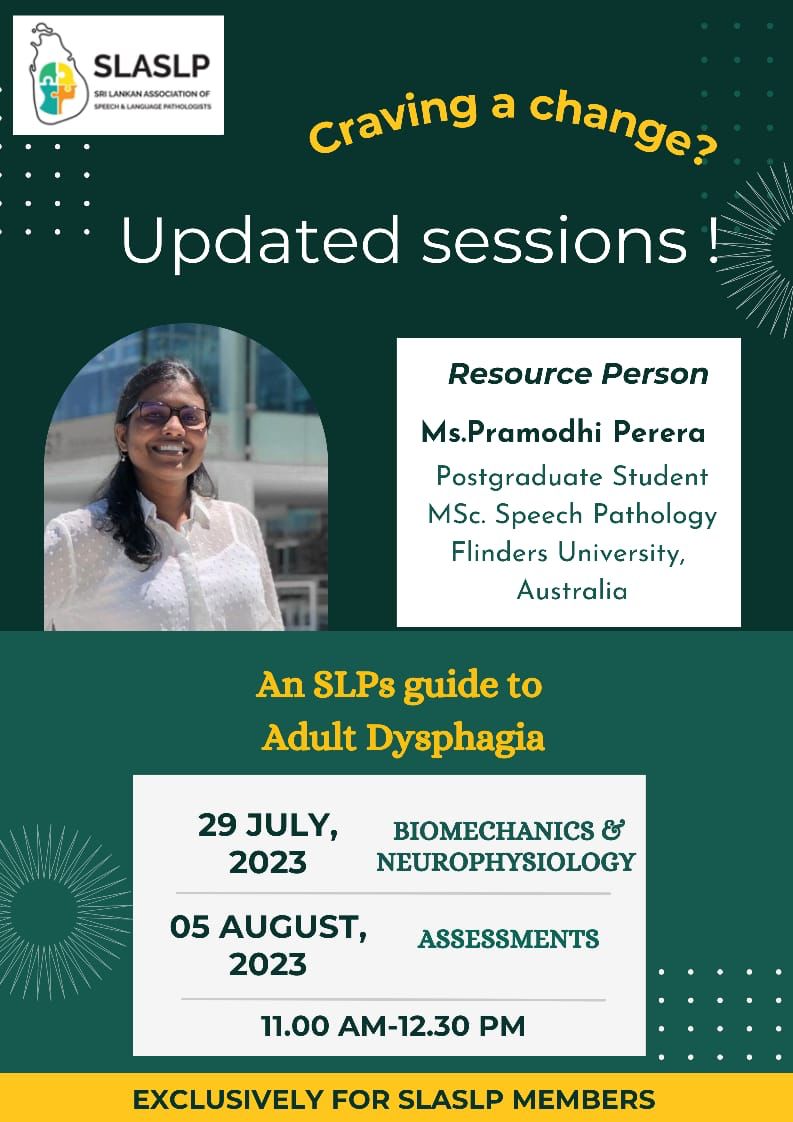 Biomechanics, Neurophysiology of normal swallowing & Dysphagia assessment
Do not miss this one!! Ms Pramodhi Buddhima Perera is all set to discuss the biomechanics , neurophysiology of normal swallowing to refresh your knowledge on normal swallowing. The second session will elaborate on dysphagia assessment to update your knowledge further. Please keep the dates and time free.
Resource Person
Ms. Pramodhi Buddhima Perera
M.Sc. Speech Pathology ( Finder University, Australia)
Biomechanics & Neurophysiology of normal swallowing
Date - 29th July 2023
Time - 11.00am - 12.30pm
Dysphagia assessment
Date - 05th August 2023
Time - 11.00am - 12.30pm
Please keep the dates and time free
Exclusively for Speech and Language Therapists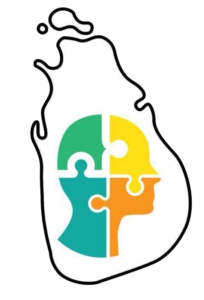 4th Annual General Meeting of SLASLP
Sri Lankan Association of Speech and Language Pathologists (SLASLP) had their 4th annual general meeting (AGM) on 20th October 2021. The meeting was conducted via Zoom due to the prevailing COVID-19 pandemic restrictions in the country. A new committee was appointed to take over the office for the year 2022. Ms. Thushanie Jayasuriya was appointed as the new president, Ms Nina Panterliyon and Ms. Kalhari Dissanayake were appointed as joint secretaries, and Ms Navindra Rajapaksha was appointed as the treasurer. According to According to the constitution, eight council members were selected for the committee. Moreover, the new president and the outgoing president, Mr Nimira Weerarathna suggested Ms Saumya Rathnayaka as the advisory member of the committee.

Following the AGM, Dr. Namasivayam Mac-Donald, Assistant Professor at McMaster University Canada, conducted a CPD program on "Managing COVID-19 patients in acute health care settings and beyond'. Then, Ms. E. E. Szenasi, from University of New Mexico USA, conducted the second CPD program on "Dysphagia Management and COVID-19: The role of Acute care SLP". Both the sessions are freely accessible for SLASLP members on the website.